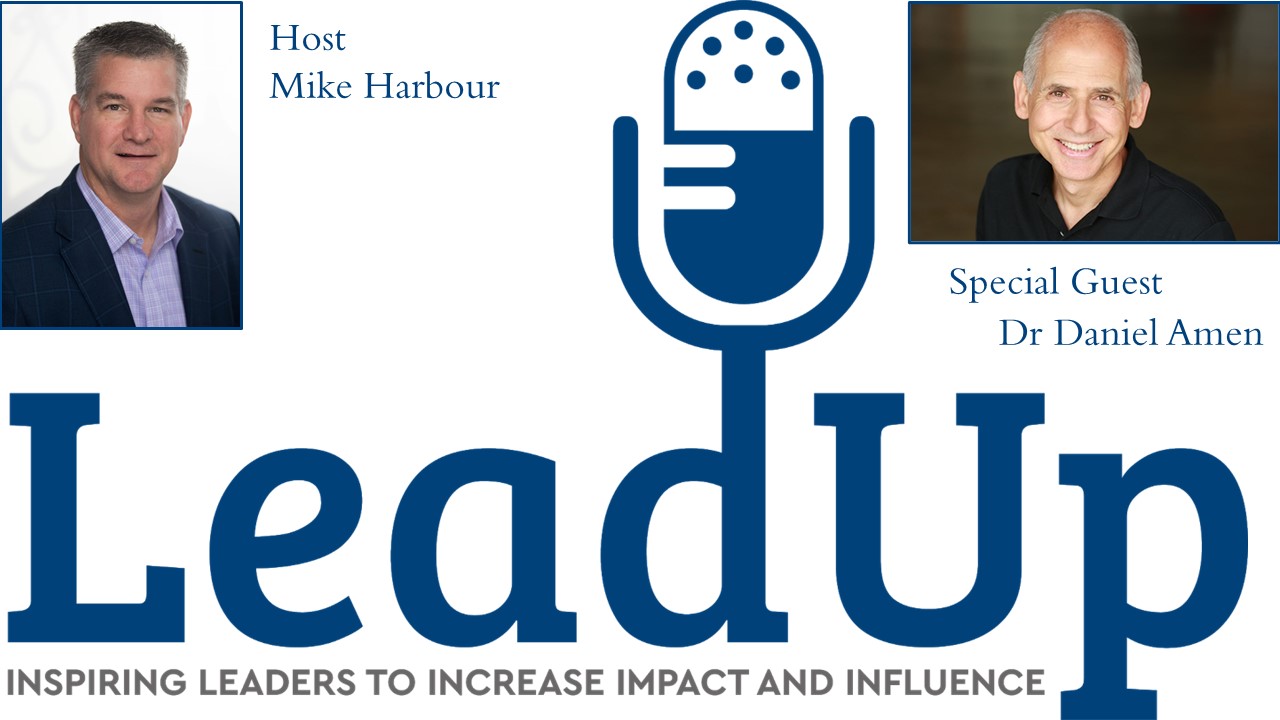 In this episode Mike talks with Dr Daniel Amen. Dr Amen is a Board Certified Child and Adult psychiatrist, award-winning researcher, and 12 time New York Times bestselling author. They discuss how our brain health impacts our leadership, how bad habits produce mental stress and getting your brain right, and your mind will follow.
Daniel Amen believes that brain health is central to all health and success. When your brain works right, he says, you work right; and when your brain is troubled you are much more likely to have trouble in your life.  His work is dedicated to helping people have better brains and better lives.
Sharecare named him the web's #1 most influential expert and advocate on mental health and the Washington Post called him the most popular psychiatrist in America.
Dr. Amen is the Founder and CEO of Amen Clinics in Costa Mesa, Walnut Creek, and Encino, California, Bellevue, Washington, Washington, DC, Atlanta, GA, Chicago, IL, and New York, NY.
Amen Clinics has the world's largest database of functional brain scans relating to behavior, totaling 170,000 SPECT scans on patients from 150 countries.
Dr. Amen is the lead researcher on the world's largest brain imaging and rehabilitation study on professional football players. His research has not only demonstrated high levels of brain damage in players, but also the possibility of significant recovery for many with the principles that underlie his work. 
Together with Pastor Rick Warren and Dr. Mark Hyman, Dr. Amen is also one of the chief architects of "The Daniel Plan," a program to get the world healthy through religious organizations that has been done in thousands of churches, mosques, and synagogues. 
Dr. Amen is the author or co-author of over 80 professional articles, seven book chapters, and over 30 books, including the #1 New York Times bestseller The Daniel Plan and the over one million-copy bestseller Change Your Brain, Change Your Life, along with Healing ADD, Change Your Brain, Change Your Body, The Brain Warrior's Way, Memory Rescue, and The End of Mental Illness.  In March 2021 Tyndale published Dr Amen's latest book, Your Brain Is Always Listening.
In 2010, Dr. Amen founded BrainMD, a fast-growing nutraceutical company dedicated to natural ways to support mental health and brain health. 
Dr. Amen is married to Tana, the father of four children and five grandchildren to Elias, Emmy, Liam, Louie, and Haven.  He is an avid table tennis player.
Listen in and learn how brain health can help you lead more effectively. 
Find out more about Dr. Amen at the following links
http://www.brainhealthassessment.com/